News Blog
Scotts Friday Fete will be held on 29th June 2018 from 12 noon - 3.00pm. Please put the date in your diary - all welcome!
5th March 2018
"You are clearly a remarkable lady running (a very long way!) for a great cause. Good luck!" A message from an anonymous donor to Jessica's JustGiving page.
All of us here at Scotts couldn't agree more!!
Jessica (pictured right on her JustGiving page) will be running the London Marathon next month to raise funds for Scotts and we know she is training very hard. Thank you so much, Jessica!!
Jessica's JustGiving page can be found at the link below:
https://www.justgiving.com/fundraisi…/jessicastapleymarathon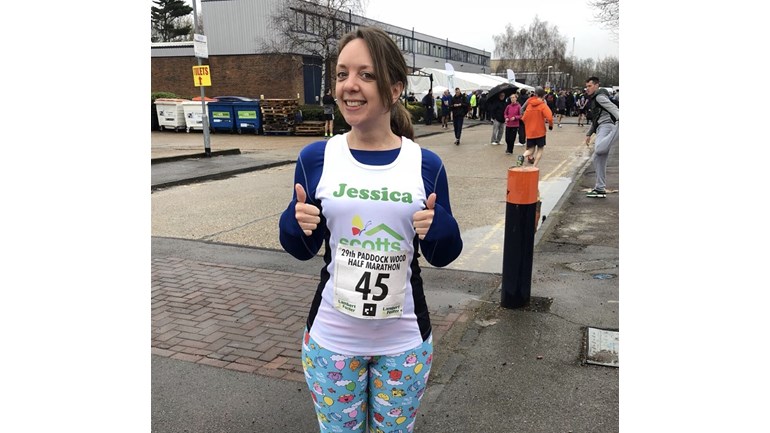 Thursday, 20th September 2018

7.30am – 4.30pm

Bacon roll with tea or coffee on arrival

One round, Stableford, shotgun start

Delicious two-course lunch

Prize presentation and raffle
The package as above:
£100pp (non-Knole Park members)
£60pp (Knole Park members)
If you would like to book a team of four, or explore sponsorship opportunities, please contact Denise Tucker on 01732 367917 or
PLACES ARE LIMITED - BOOK SOON!
Please note, there are no buggies available on the course.
Tonbridge Lions Club charity walk - do you want to join us?
13th May 2018 is the next Tonbridge Lions Club charity walk. A lovely way to raise funds for Scotts.
Last year, 98 walkers took part on either a five-mile or ten-mile walk, starting and ending at Shipbourne Village Hall, raising funds for 17 charity or community groups (including Scotts).
The shorter route took us via Dunk's Green, Fairlawne Estate, Ightham Mote, Wilmott Cottage, Budd's Green, and Shipbourne Church. The longer route extended to Carter's Hill and Underriver. Absolutely beautiful scenery.
Tonbridge Lions Club kindly plan and marshall the event and supporters of participating charities obtain their own sponsorship and do the walking! All of the sponsorship raised by individuals for their chosen charity goes to their cause.
We will have more details soon. Please email me, if you would like more information.
Scotts Project Trust
Delarue Close
Shipbourne Road
Tonbridge
Kent TN11 9NN
Registered Charity 1051947
(c) 2018 Scotts Project Trust